Relaxing in an exceptional Finca at the Costa Blanca in Spain
The Finca "Foyeta de Tur" is located amidst unique mountains close to the almond city Jijona, roughly 15 km from Alicante, with a spectacular view of the distant city, coastline and Mediterranean Sea. Old carob-, olive- and almond trees are growing in the sheltered valley. The ecological olive oil meets highest quality standards and is a class of its own. The sweet aromatic almonds, old species, are hard to get outside of Spain. On ancient terraces, that had been constructed presumably more than 3000 years ago (!) and worked since then, wild flowers, aromatic herbs and rare animals can be found, as we practice ecological agriculture that allows nature to thrive.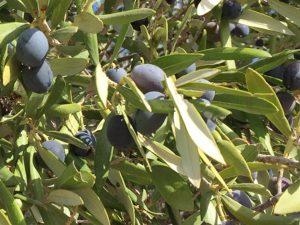 We are protecting the environment: In the close neighborhood of the house the Eagle Owl has its breeding ground among the steep rocky cliffs. The Ocellated Lizard made the wood stacks behind the house his permanent home, a reptile that is under protection in Spain and in Europe. For ornithologists and people, who love to observe nature and all kind of rare species, this is the place to stay.
The Finca Foyeta de Tur was build at least 200 years ago with limestone, earth and sand and set on a rocky plateau at an elevation of 350 m above sea level. It is surrounded by impressive mountains and steep canyons. The two buildings were completely renovated in 2008 with ecological materials as plant oils and burnt lime for the walls, like in ancient times. All rooms are well equipped with tasteful antique Spanish furniture. An infinity-pool based on salt water electrolysis in front of the house invites the guests for a swim. Power is generated by own photovoltaic panels and wind turbines. The residue water is cleared through a filtration vat with water reed.
The location of the house offers almost a 360° view into the distance. The Finca Foyeta de Tur covers an area with more than 65 hectares around the house and is just perfect for active guests who want to either do mountain excursions, horse riding, mountain-bicycle-trips as well as playing golf or just relax and do nothing at all. In any case: Everybody is taking a risk to really recuperate at this quiet place.