"Finca Foyeta de Tur S.L." is our family business registered in Spain. (C.I.F. 0B42545467).
Participants are Carola Belloni (mother) and Leon Beudt (son). Manager of the company is Carola Belloni.
The Finca Foyeta de Tur is owned by the family for more than 40 years and in the past years we bought another field, neglected and with old olive and carob trees, adjacent to our land.
We produce our own power via solar cells and wind turbines. All waste water is filtered through a purification plant on the land and then cleared furthermore through another reed vat. Rainwater is collected and used for the pool.
With mixing 550 olive trees, around 100 almond and about 50 carob trees, we do have a mixed culture, that enhances the living together of different plant- and animal species and thus add a huge part to the biodiversity of the whole Espartal valley. Wild herbs and numerous endangered insects, birds and reptile make their living in the fields and survive.
We refrain from artificial irrigation, as we found out, that even in times of drought the trees can still reach remnants of water due to their deep roots and stabile water storage deep in the ground. In years of drought, we might harvest less or nothing, but the trees will survive and stay alive and healthy. This is more important to us. And our ecological water footprint is a very small one. Olives and almonds are full of essential oils and thus oil and almonds have a distinct aromatic flavor.
We do harvest with friends and volunteers like in the old days, by hand. Bad almonds will be sorted out and rotten olives will not make it to the mill.
We want to produce highest quality and take care of the well being of our trees and all creatures living there. We applied for the eco-certification right now.
For our guests we make sure, they are having a good time, we take care of their well being hoping, they enjoy nature and silence and we do expect of them to treat nature and our resources as well with mindfulness and respect.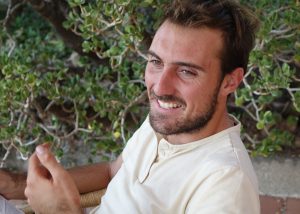 Leon Beudt, proprietor of Finca Foyeta de Tur S.L.